Clyde Thomas was an all-state athlete in basketball and football at Bellaire High School. After having a stellar High School career, he started at running back for Ohio in the 1958 OVAC All-Star Football Game, alongside quarterback John Havlicek, the future Boston Celtics legend.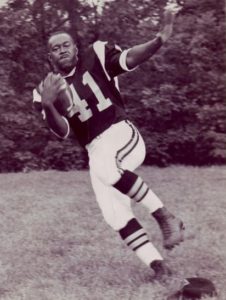 Clyde played college football for Ohio University, and starred on the undefeated Mid-American Conference Championship team as a senior in 1960. An All-American, Clyde was mentioned in a 1960 issue of Sports Illustrated as "being the biggest frog in a small pond" after helping Ohio University win a Conference Championship, and a Small School National Championship (an award that no longer exists today).
He went on to have a successful career as a professional athlete. His professional career begin with the Vancouver British Columbia Lions-Canadian Football League in 1961. In 1964, Clyde began playing with the Wheeling Ironmen, a local semi-professional football headquartered in Wheeling, WV. In 1965, Clyde made way into the NFL and signed with the Philadelphia Eagles. He returned to Wheeling in 1965 to play for the Ironmen, where he would play through the 1969 season. When he retired from the Ironmen he was the franchise's all-time rushing leader. Clyde Thomas was inducted into the American Football Association's Minor Football Hall of Fame in 2000.
After retiring from football, Clyde ran for City Council, won by a landslide, and served the City of Wheeling for more than 20 years as an elected official. Also serving as vice-mayor, he helped get the Wheeling Civic Center built, and led the proposal for a downtown Wheeling shopping mall. He was the first and, to date, the only African American ever elected to Wheeling's City Council.
Clyde was a former Vice Chairman and a member of the Board of Directors at West Liberty State College.  He continued to serve Wheeling in many aspects as he was appointed as Vice Chairman and board member of the Wheeling Municipal Auditorium Board. Later he was appointed by Governor of West Virginia of Board of Insurance and Risk Management due to his vast knowledge and insurance experience. Clyde Thomas was a member of the Hall of Fame Board and a member of the National Football League Players Association. He served as a Chapter Vice President for the NFL.
Clyde Thomas died in 2006, but will always be remembered as a true pioneer of success in the Ohio Valley.
Comments
comments