The 40's and 50's were a much different time in the Ohio Valley. Industry was thriving, the population was at an all time high, and success was within reach for anyone willing to put in the work. No one knew that better than a young man, known on the streets of Wellsburg by the name of, "Bud".
Born in the summer of 1941, Paul "Bud" Billiard grew up on 6th street, in the thriving, downtown, district of Wellsburg. Raised by a strong working class family, Bud quickly learned the value of hard work. His father was a hardnosed construction worker, and his mother, a determined entrepreneur. Growing up in the Ohio Valley was much different than it is now. Family names weren't established, and there were certainly no handouts or free rides. Back then, it took hard work to make a name for yourself, and after Bud lost his father, Paul Billiard, at the age of 10, that's just what he was determined to do.
Bud graduated from Wellsburg High School with the class of '59, where he was a standout in football and baseball. Continuing his academic career at West Liberty, Bud was a member of the Hilltopper football program, where he was 1st Team All Conference as a Junior and Senior. Graduating with the West Liberty class of 1964, Bud was ready to become the Ohio Valley's newest teacher. However, there were no available teaching jobs in the area. Bud was determined to work and be successful, so he turned to the Wheeling/Pitt Mill where he worked for 4 years before being laid off. Newly unemployed, Bud took a negative situation and turned it into a positive one. He used the opportunity to take advantage of all of his connections in the area, in order to get a foot in the door in the teaching field. That's when Coach Andy Urbanic of Wheeling Central called and offered Bud the opportunity to become Coach Billiard in 1967.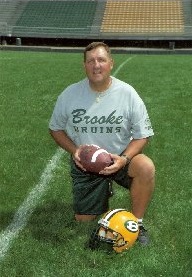 To this day, Coach Billiard still holds Andy Urbanic in the highest regard for giving him his first coaching opportunity, and credits him for much of his fundamental success. Coach Billiard spent 4 years as an assistant coach and teacher at Wheeling Central. During his time there, he also obtained his first "head" coaching opportunity, when he was named the head man for the Wheeling Central track program.
In 1971, Coach Billiard had the opportunity to take over the Brooke Bruin football program, a position that he accepted and held for 30 years up until 2001. Coach Billiard brought with him the discipline he learned from Coach Urbanic. He made his players wear ties, blazers, and he encouraged the players to hold themselves to higher expectations. When interviewing for the position, Coach Billiard said he had 5 goals for the program; do well in the OVAC, go to the State playoffs, have an undefeated team, win a State Championship, and bring positive national attention to the school and community. Despite such lofty goals, he eventually achieved them all.
During Coach Billiards tenure at Brooke, he captured 185 victories, while winning nearly 70% of the games he coached, with 3 of his teams going undefeated. His teams made the playoffs 17 times, and won 7 OVAC titles. Seven times his teams made State Championship appearances, and three times he brought home the WV AAA Trophy. Twice, his squads were nationally ranked by the USA Today. In 1987, his Bruin squad was ranked 25th in the Country, and in 1990 they checked in at 23rd, nationally. Only three other high school teams have ever been nationally ranked in West Virginia State history.
Coach Billiard stepped down at Brooke in 2001, and started a company called ProTalk. Through ProTalk, Coach Billiard provides a series of lectures that are designed to be motivational and uplifting in helping people lay the foundation to be successful in whatever it is that they do.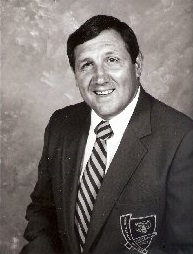 In 2004, while lecturing at Bethany College, Coach Billiard fell to the ground dead, before being brought back to life by a defibrillator. He was later diagnosed with a severe heart problem that required him to have a pacemaker. Refusing to lay down and quit, Coach Billiard rebounded, and at the age of 65 he returned to coaching at Wellsburg Middle School as a volunteer assistant.
In 2009, the Brooke Bruins hired a new football coach, Tom Bruney, and one of the first people he called when he got the job was Bud Billiard. Coach Bruney offered Billiard a job, and he now serves as operations manager for the football program, coordinating schedules, team events, etc.
Today, Coach Billiard lives in Wellsburg, where he's resided for the past 47 years with his wife of 49 years Carol Ann Shimp Billiard. They have 2 sons and 1 daughter (Paul, TJ, and Kimberley Ann Wales), and 7 grandchildren (Kyle, Kody, Cross, Bode, Angelo, Rocco, and Giana). His grandson, Kyle is a current member of the Brooke Bruin football team.
I was able to have the privilege to sit down with Coach Billiard.
Q – Who was the biggest influence in your career?
A- "For me, its a combination of people going back to my family. All of us in athletics have somebody to thank in terms of coaches. Coach Urbanic impacted me greatly, nearly everything positive I've done is a reflection of him and what I learned coaching and teaching at Wheeling Central. Coach Blatinek at West Liberty was a mentor to me. Coach Fedak, my little league coach growing up was like a father to me. Dan Finell was my first principal at Brooke and it was fantastic working with him. He and I became great friends. All of those people molded me to who I am. Your personality is the sum of everybody you meet, and I've met some great people in my life."
Q – Is there a particular play or game that sticks out the most?
A – "In 1987 Mt. Lebanon called us looking for a game. They were rated nationally, and were loaded with D1 players. Once I was told that they wanted to play us, I said "Go! Call them back and say yes!". People thought I was crazy, because everybody knew about how good they were going to be. People asked me why we were going to play them, I said "Why not?". I thought of it like this, if we play them and win, then we could really make a name for ourselves… if we lose, then we lose to a really darn good football team. I wanted to play a schedule that would require a real tough team to get through, and I thought we had a team that could. We ended up winning that game 20-14. In the 4th quarter they had all the momentum. On a big 3rd down play I just knew that they were going to run this off tackle play that was killing us all game. I stacked the side and had the hole plugged with 3 of our men and we stopped them right in their tracks. We knew exactly what they were going to do, and we weren't going to let them beat us. I will never forget that game."
Q- Who was the best player/team that you ever faced?
A- "The toughest games we ever played were always against Steubenville Central, even on a down year, they played us as tough as anybody on our schedule. We had many great rivalries during that time. We had the 100 Mile War with Parkersburg every year, and the Battle of the Bidge with Steubenville. Every week was a big week and you just wanted to be 1-0 at the end of it. In 1992 Dupont beat us in the State Championship, and they had a receiver by the name of Randy Moss. They were an outstanding team, and Randy Moss was the most incredible athlete I've ever had to coach against. We triple covered him all game and still couldn't stop him. I told my son at the end of the game that we would be seeing that Moss boy play on Sundays."
Q- You left the Brooke program in 2001, do you have any regrets about leaving the sidelines?
A- "Oh yea… every day… every day. I missed the kids. I didn't want to go when I did, but with the conditions there, it was time to move on. But was I ready to go? No… if I was ready to go then I wouldn't still be dabbling with it today. Conditions in the school changed, the administration changed, and at the time it was best that I get out. I missed what I loved doing, and that's being with the kids… the kids are what I missed the most."
Q- What advice do you have for all our young student/athletes in the Ohio Valley?
A- "In everything you do, have a vision, and if you do the right things in life, you can be exactly what you want to be. When you do something, do it right, and do it whole heartedly. Always remember that almost everything you do in life will involve somebody else, and anything that involves more than 1 person is a "team". I hope that everybody who reads this comes out with the mind frame that you can literally do anything that you truly put your mind and heart to, but don't just be something… be something special. Whatever it is that you decide to do, be the best you can be at it, but never forget your roots and where you came from. I'm a downtown kid, and I'll never forget mine."
Comments
comments